Blog Archives
There are realities and there are coping mechanisms.
My six-year-old is a big nature fan. And I am faced with the task of explaining the fate of nature in addition to its wonder. And sometimes it's too hard. Thus the poem.
            Planting a Flag Upon the Shifting Baseline
.
Passing an afternoon in the local park
Beyond the playground with youngest
Child exploring our natural world around
Appears bare over and above weeded beds
.
The park hosts ducks and if lucky a few
Unseen moles given away their holes in
Tight mown lawns . The pond produces 
Not a dragon nor damselfly these days;
Frogs do not call nor drop from Lilly pads.
.
Starlings must suffice for birdsong in
The absence of other sopranos. Sparrows
Tweet where warblers once had trilled.
Cherry blossoms bloom only for humans it
Seems: no bees now humming about branches.
.
But the sun still burns as the Earth turns,
And instead of telling tales of yore;
The beings which beautified our world before,
I plant my flag upon the shifting baseline
.
And allow my boy appreciate the birds and
Insects that are left: ants on the rocks,
Grasshoppers blending into the too-late left
Unmown blades; daisies and dandelions yet
.
Lovely even if aren't orchids and goldfinches
No longer glorify the scene as they seek seeds.
The ducks are enough to look at despite there
Once being more dainty denizens in the reeds:
.
For thus we seize upon the joy we need,
The only hope for wonder left clinging
After the stupid, searing, sundering of greed.
Shifting Baselines
I read a story, set in a strange place
But setting off from London in the
Last century, and the strangest fact
Was the act of dating time: not using
Newspapers, which was his job, but
From the nightingale's mating song.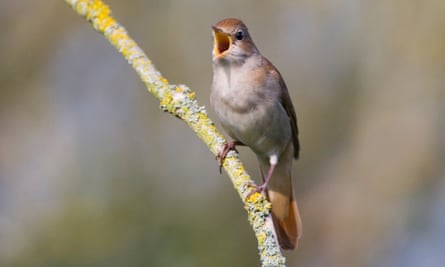 How stark the shift from this to
Today's sad state of scenes: the lark
Sings aloft, a lone clarion upon the
Empty sheep-shorn heath, and yet
Nobody knows him, nor hardly hears.
Our knowledge of the shifting seasons,
The timeless turning of life around
Us, fell away in the meantime: lost
To ever-speedier spinning, electrons
Taking attention from the tunes and
Stories sewn in sinews, to those
Traced ephemerally on screens, stacked
Up operas in boxes, serial sameness,
Lines listed, twisted until too seems
Our lives, left less sane, tracks too tame
To take notice of what, without, from us
The gamers have already taken.