Blog Archives
Shifting Baselines
I read a story, set in a strange place
But setting off from London in the
Last century, and the strangest fact
Was the act of dating time: not using
Newspapers, which was his job, but
From the nightingale's mating song.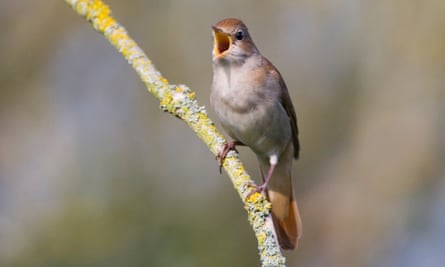 How stark the shift from this to
Today's sad state of scenes: the lark
Sings aloft, a lone clarion upon the
Empty sheep-shorn heath, and yet
Nobody knows him, nor hardly hears.
Our knowledge of the shifting seasons,
The timeless turning of life around
Us, fell away in the meantime: lost
To ever-speedier spinning, electrons
Taking attention from the tunes and
Stories sewn in sinews, to those
Traced ephemerally on screens, stacked
Up operas in boxes, serial sameness,
Lines listed, twisted until too seems
Our lives, left less sane, tracks too tame
To take notice of what, without, from us
The gamers have already taken.
I wrote a blog post – a poem, really – about watching the planet from a distance. We sometimes think that what we have around us is of utmost importance, but it's probably not, it's just a jot in time.
Well, as I read the book, Against the Grain, and I see that civilisations fall almost as often as they spring up from the sweat of their subjects. I am feeling less attached to this one we are currently living in.
The history of our planet is basically people doing bad things to other people and species to keep themselves in the lap of luxury if at all possible.
The last century is an anomaly in giving any power (superficial though of course it is) to the common man (or woman, if she's really lucky.)
If we see all the stuff written about past civilisations, all dug up from the ruins, often when those now living in those places have no idea about them, no memory, no stories, just some stones they might have found and used as foundations for their own houses, we see how fragile, how faint is the mark of these societies, really. They disappeared most of the time.
So what if we disappear too?
In the past, the people subjugated by these states didn't all die – many or most escaped back to a former type of life, and were probably happier for it, definitely better off in terms of diet and health. So why lament the demise of the rulers?
I don't.
I live in this world, of course. I am dependent upon it. If it were all to disappear tomorrow – as I said back on New Years Eve 1999, when we wondered if the Year 2000 bug would stop the world – then I'd be dead in a matter of months. I can't just walk away from the status quo, go and grow beans and catch animals. I am attached to the technology for life, and though I teach my children about wildlife which might help them when the cities are destroyed, my daughter is equally diabetic and unless I learn how to distil insulin from dead deer and rabbits, we'll be as dead as anyone else when the disaster hits.
But people will survive.
Some will walk away, south or north where the weather is better. Humanity will continue, just as it did after the collapse of other societies. Some people will remember how to live outside the shelter of our cities and society. Apart from the plastic everywhere, this small snapshot of history will become as forgotten as the rest.
Our descendants, if we have them, will build their cities on top of ours, like we have on others, so our buildings will be discovered accidentally some day like we find the remains of the Roman walls and medieval castles when we dig out subterranean car parks.
The beech trees will survive, shifting north and south, possibly all the way to Antarctica, where they once grew before during a time when the world had a similar atmospheric CO2level to today. Most of the other plants will probably struggle on, too, though much of the fauna will die out, to be replaced eventually in time by other species.
It's a real fucking pity, a goddam waste, that we allow this to happen. It's stupid, stupid, stupid, to quote some fuckwit from the annals of insurance fraud. The age of stupid, like the documentary.
We could keep the world looking the way we want it if we move our asses.
To allow it to change from how it suits us is like letting the house burn down because you're too lazy to pick up a fire extinguisher.
I remember visiting Niagara Falls years ago, and being told that the quantity of water allowed to flow is much reduced not just to produce electricity, but to ensure that erosion doesn't move the falls upstream – which would mean having to move the viewing platforms from where they are now. And that would be silly.
If that kind of sense was applied to our current problems, we would see a lot more action on the climate change front.
Our society might have a sea-change in our economic activities, but it will be unnoticeable on a grand scale, just like the difference between agriculture in England growing turnips in the 18thcentury is indistinguishable from growing grain in Egypt two thousand years ago.
But moving London, Alexandria, Miami and all those other seaside towns kilometres inland will be a major change that will be seen clearly in the archaeological record of our planet.
And because we won't be around to explain it, they'll be confused as fuck as to how stupid we were. Stupider than Easter Islanders.
Everyone Needs a Little Governing
We all need a little governing, a solemn voice telling us what would be best,
And suggesting guidelines to follow, even if we've thought of them ourselves.
I can control my daughter's diabetes much better than I can my own.
Though I know what must be done, it's harder to deny my own temptations.
Who hasn't benefitted from working out with a friend instead of attending a gym alone?
Going to Weight Watchers works much better than trying to diet unassisted. The secret's
in the name. And it's the same for being good citizens.
We can tax tobacco use, but only by frowning upon it can we really take it down.
The price of luxuries is only prohibitive if you're not very rich, and that's just
discrimination rather than good stewardship.
Thus I wish someone would stop selling me shrimp, which are too delicious to deny
myself, despite the detriment I know eating them does to the environment.
Baby eels need to be illegal instead of merely expensive; the same for Bluefin tuna.
I wouldn't miss the latter fish much if they were off the menu in my rainbow roll
because of their imminent demise, or of the by-catch obliterating our oceans.
Likewise, I would find a way to get my groceries home from the mongers or
butchers without a plastic bag, were they finally, properly, prohibited.
I'll express no melancholy if I could never again drive through Madrid,
as long as the millionaires are only allowed if in electric cars like everyone else.
It pains me to say it, for the plans I had can't happen if this does, but the future
requires aeroplane fares to be rationed, rather than priced out of our range
as we run out of oil: a maximum distance per lifetime –
until they create a carbon-neutral fuel –
we can use on a few flights in Europe or one all-out Phlleas Fogg journey,
a true trip of a lifetime to Australia or Tahiti, and that's it. Take the train
to Vienna if you must, but your Island is out of reach except by mail boat.
Some laws are more easily lived with than others, but all are abided by
if need be, and believe me, needs be, big-time in these times.
If we don't make them, we will be making the biggest mistake made
By humanity in its entire history. These are the only ways to manage ourselves,
to get out of our individual and global dilemmas. They are hard decisions,
which require a strong conviction in what is right, taken by someone willing
to stand up for that, and fight, to lead the way if that be into the fray,
against the grain, which is why we vote in leaders when given ballot papers.
19/2/19
I support the calls for revolution, the rejection of our global system.
The strikes called by students to demand the emergency handbrake is pulled.
The rebellion explicit in the extinction rebellion name.
This is not anarchy.
Anarchy might be the best way to have human societies, but to run the planet, without running it into an ecological brick wall. We need government. It's just that the governments we have at the moment are monumentally shit at doing what they are supposed to do
For those who don't know, here are a few photos to illustrate the points