Monthly Archives:
November 2020
Cathedral Leaves
November sunlight shines at right angle
To catch leaves like stained window panes
On cathedral trees, lining riverbank, flanking
Dancing stream gleaming like black marble.
Drakes draw diamond wakes through dark
Water, songbirds call sonorous cries flying
Through timber, sweet as a child's choir.
Marvelling at this flowing manifestation of
Nature's majesty, I stand in reverence:
An experience as solemn as sacraments,
Holy as the spirit infusing these trunks
And tender tendrils dangling delicate
Leaves twisting daintily in the breeze.
And I wonder why those who kneel for
An invisible being in the sky, don't even stop
To breath in, appreciate this display of
Beauty splayed out before them, inhale
Divinity in every breath of autumn
Dampness, soaked up sounds like dewfall,
Absorbed through skin as golden photons;
On shoulders felt the gentle hand of eternity.
So despite our quarantine, and shut bars etc., we can at least leave our homes so far during this second wave, and that's a lot. A walk, a stroll, a chance to stand and smell fresh air (when you can lower the mask, of course) to stare up at the sky and relax your eyes, is not to be dismissed anymore.
And it's a delight to know the natural world is still spinning on despite our stupidity.
I don't have any shots of the cranes at night because I just watched rather than fumble with phone, but I have posted some shots from other days – one of the cranes going low over town during the day, and of course, our constant companions all summer in the south, Jupiter and Saturn. Mars is in the east these days. It'll never be easier to see so look up this weekend.
Passing in the Night
I stare out from the city walls, waiting
For migrating cranes to come calling:
Glimpse against low city-glow clouds.
Bats pass but no birds; Mars my only
Other midnight companion, with
Jupiter and Saturn at my back, a
Spider spinning draws eyes down
From treeline to the damp stone:
Seeing mites crawling across lichens
White in the street light, changes
Perspective. Some comfort comes
From knowing creatures will roam
Over these stones even if crumbled;
And the bodies above me will circle
Unceasingly in their great migrations,
When neither walls nor men yet stand.
Shifting Baselines
I read a story, set in a strange place
But setting off from London in the
Last century, and the strangest fact
Was the act of dating time: not using
Newspapers, which was his job, but
From the nightingale's mating song.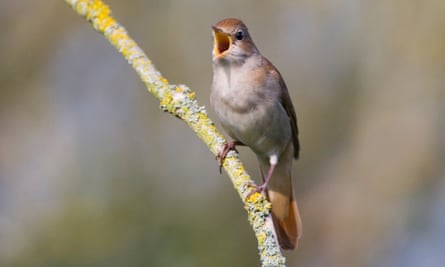 How stark the shift from this to
Today's sad state of scenes: the lark
Sings aloft, a lone clarion upon the
Empty sheep-shorn heath, and yet
Nobody knows him, nor hardly hears.
Our knowledge of the shifting seasons,
The timeless turning of life around
Us, fell away in the meantime: lost
To ever-speedier spinning, electrons
Taking attention from the tunes and
Stories sewn in sinews, to those
Traced ephemerally on screens, stacked
Up operas in boxes, serial sameness,
Lines listed, twisted until too seems
Our lives, left less sane, tracks too tame
To take notice of what, without, from us
The gamers have already taken.